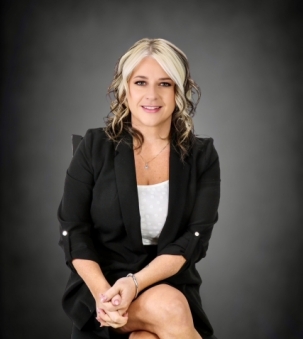 Nicole Miller
Sales Representative
PLATINUM KEY REALTY INC.
519-264-1999

226-927-6886
About Nicole
Having grown up in Strathroy, Nicole has a substantial understanding of the Strathroy-Caradoc community and surrounding areas, which enables her to help her clients find their perfect home.

Nicole partners with her clients to ensure their wants and needs are met. She provides honest advise from day one of their home search to the closing date and beyond.

Nicole's listing service includes a professional home stager, photographer and cleaner. She understands that listing your home can be daunting and helps showcase your home to earn top dollar.

Nicole loves to be involved in the community by organizing fundraisers such as Fill The Fridge for the Women's Rural Resource Centre as well as volunteers on the Mt. Brydges skating and Magic Blades Synchronized Skating board.

She enjoys spending time with her husband and 3 children and loves raising her children in a small town.

Honesty, commitment and determination make her a perfect fit for anyone looking to navigate the Real Estate market from first time home buyers, investors and beyond.

----------------------

Testimonials:

Connie
May 2021...BEST EXPERIENCE EVER. THANK YOU FROM THE BOTTOM OF MY HEART!!!In this crazy market NICOLE WAS A COMPLETE POWERHOUSE. Her attention to every detail, professionalism, communication and overall performance in selling my home was absolutely amazing.

With 53 viewings and 13 offers it was nonstop action and my home was sold for WAY above asking in a matter of 7 days. Nicole never quivered under the pressure of the constant inquiries, booking and organizing all the viewings with me. She constantly communicated with me every step of the way.

A big high five to Sara who designed and staged my home. It looked amazing. She was also a POWERHOUSE to be reckoned with. Nicole and Sara make a great team. I cannot thank them enough for all their support and having the best experience ever.
-----------------------------------------

Jolene
Nicole goes above and beyond the call of duty!!
She is attentive and thorough and I couldn't have pulled off this magic trick without her.
I recommend her to any and all!
-----------------------------------------

Larry
Let me start by saying Nicole did an amazing job she went beyond the call of duty! And she was able to get me approximately 25% more than other agents said it was worth and not because she just wanted the sale but because this is what she thought it was worth and she was right the first day and first showing we had our offer! I will continue to use her going forward and I suggest others should do the same! Thanks again Nicole for a great job, I'm so glad I went with you.
-----------------------------------------

Rachael
5 stars! Nicole is Amazing. We are first time home buyers with 3 little boys. She felt like a part of the family when we went house hunting as she would soothe our crying baby and carry our toddler under an umbrella in torrential downpour. We had Full trust in her and knew she always had our best interest at heart. We ended up finding the Perfect home for our Family and I honestly cannot say enough good things about Nicole. and this experience wouldn't have been the same without her. thanks so much Nicole!!!!!
-----------------------------------------

Annette
Nicole was amazing. We were not selling with ComFree, so we decided to try Nicole. We sold our house in 2 days!! And for a lot more than we expected. Thanks Nicole!
-----------------------------------------

Suzanne
Nicole is wonderful to work with! She is honest and truly wants to find her clients the perfect home! She helped my mom find a home in Strathroy to relocate from the GTA. We can't thank her enough for all her help and guidance! If you're looking for a realtor to buy with or sell with she's an amazing choice!! We highly recommended her! Without a doubt 5 Stars!!!
-----------------------------------------

Kendra
Nicole is absolutely the best agent we have ever dealt with. We shared many laughs, she made a stressful experience seem easy and best of all she sold our house in a matter of days!! Nicole calmed my nerves when they were getting the best of me and always made us feel like a priority. Thank you Nicole we will never forget this experience!!
-----------------------------------------

Heather
Thanks to Nicole for the wonderful job she did helping me get my house ready to sell. She provided a professional designer (thanks Sara!)to stage the house and what a difference it made! Everyone coming through was able to see the beauty of my home. I can't express how pleased I am with all her efforts. I highly recommend Nicole!
-----------------------------------------

Rose
Nicole very recently helped us sell our house in Strathroy,she is great to work with,very friendly,positive and professional.The staging she and her designer did,I feel really helped make the house look the best it could!We would definitely recommend Nicole,and will be using her again in the future.Thanks so much,Nicole
-----------------------------------------

Lisa
Nicole was so wonderful to work with! We searched for our first home for quite some time and Nicole stuck with us to help find the perfect home! Being first time home buyers, we had a lot of questions and were uncertain on how the whole house buying process went. Nicole was there to answer all of our questions and made certain to make our first home buying experience perfect. She is professional, knows her stuff and is an all around great person! We always recommend her to our friends and family. Thanks for everything Nicole!
-----------------------------------------

Thea
Nicole......we LOVE Nicole! Talk about amazing! My husband and I along with our two young kids moved from Vancouver, BC at the beginning of the pandemic, not ideal timing. Nicole absolutely put so much time and effort into finding us a great home in the midst of all the crazy. Third offer was a charm for our house, I most likely wouldn't have looked at it if she hadn't told us that it was better in person than the photos. It turned out to be the one, it's perfect for our family and I'm very thankful it all worked out so well!
-----------------------------------------

Jake
Nicole is second to none. We are new to the investment property world but with Nicole's effort and helpful advice we found an amazing property. She even went above and beyond the sale to facilitate us finding the right renters. We could not have done this without her.
-----------------------------------------

Linda
I have no words!! The very best experience we have ever had buying and selling!! Nicole treats you like family and goes above and beyond!! Want your house sold in a matter of days? Just ask Nicole!!!!!

I have no words!! The very best experience we have ever had buying and selling!! Nicole treats you like family and goes above and beyond!! Want your house sold in a matter of days? Just ask Nicole!!!!!